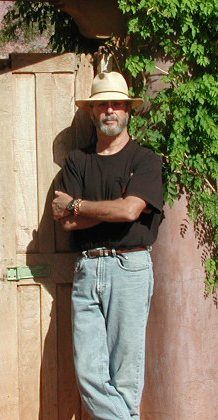 B I O / R E S U M E


GARY MAX COLLINS

Kayenta, Ivins, Utah 84738 U.S.A.
Gary Collins, contemporary oil and watercolor painter and one of Utah's finest landscape artists, was born in the mid 30's and has drawn and painted since early childhood. He grew up in a nurturing family that fostered his artistic talent and his innate appreciation of art. At a young age he studied the art of the early Utah painters and practiced duplicating works of the masters such as Van Gough and Matisse. His early interest in art, sparked by teachers and his grandfather, a poet and naturalist, eventually led Gary to sample a variety of related professions while painting; interior and graphic design, architecture and illustration. Selling his first works at the age of 20, Gary ultimately realized his dream to paint full time in 1969. A press release from a Los Angeles gallery said of Gary Collins, "Many artists have the ability to depict a landscape. Few have the talent to show a viewer what the places feels like."
Growing up in the mountain west, Gary found continual inspiration in the ever changing moods of the mountain and desert seasons. His early fascination with trees, their roots, bark, leaves and seasonal changes led him to a life long love affair with the aspen tree. Quoting one of his clients, "It is a pleasure to experience one of Gary's landscape paintings and feel the warmth of sunshine radiating through the trees."
Gary attended Brigham Young University in the late 50s and the University of Utah in the early 60s. He has traveled and painted throughout the world and spends his summers painting plein-air landscapes in France and Italy. "There is something spontaneous and immediate about painting on location, whether in small villages or out in the countryside surrounded by nature." Something magical happens while capturing the color, light and shadow before it is changed by the movement of the sun."
During the winters Gary paints at his desert home in Kayenta, Utah and his studio in Salt Lake City.
Gary's paintings have a distinct quality, a unique blend of traditional, impressionistic, and abstract styles.
Collins' purpose through his renditions is not to recreate a landscape, yet to convey a dream-like impression of timelessness and calm. His paintings create a sense of a passing effect of atmosphere, light, and symmetry, while the energy conveyed to the viewer becomes highly subjective. What he defines as "the sensual pleasure of change", the fleeting moment, is captured in nature.
Gary's work has been widely distributed in several languages written by clinical psychologist Stephen C. Paul which includes Illusions, Inneractions and In Love. His most recent book features golf landscapes in The Secrets to the Game of Golf and Life. Collins has exhibited in galleries such as A Gallery, Williams Fine Art, and Brushworks Gallery in Salt Lake City, Meyer's in Santa Fe; the Mauna Lani Resort and the Hale Kea Estate in Waimea, Hawaii; the Kimball Art Center in Park City, Utah, and the Phoenix Gallery in Park City, Utah.
He is the father of three children, two of which are successful artists who often collaborate and exhibit with their mentor.
Gary's goal is to create paintings that give people pleasure and enrich their environment. "Painting is my true joy. I feel fortunate that I am able to make my living doing what I love, that I have the luxury of being able to follow my bliss."
CORPORATE COLLECTIONS / selected list
First Security Bank, Zion's Bank, American Savings, Holiday Inn, Utah First Bank,
Bank of Utah, Willow Creek Country Club, Salt Lake Hilton, Peery Hotel,
Intermountain Health Care, Salt Lake Art Center, Salt Lake Chamber of Commerce,
University of Utah Alumni Center, T.O.S.H. Sports Medical Center, SLC,UT.,
Riverside Country Club, Provo, UT., Zion Park Inn, Springdale, UT.,
Sundance Resort, Sundance, UT., Doral Golf Resort, Miami, FL.,
The Citrus Golf Club, La Quinta, CA.
EDUCATION
Brigham Young University, Provo, UT.
Taught painting at University of Utah, Salt Lake City, UT.
Traveled and painted throughout the United States, England, Ireland, France,
Italy, Greece, Israel, Mexico, Tahiti and Hawaii.